CCP is partnering with the BIG INK for two days of large woodcut printing with CCP's 39" x 72" etching press to pull prints on
Saturday and Sunday October 8th - 9th, 2016. Artists are invited to
submit a proposal
to create a woodcut, at least 24" x
36" in dimension,
before July 25th, 2016.
CCP announces the 11th Biennial Int

ernational Miniature Print Competition and Exhibition. This juried competition and exhibition, limited t

o works that are no more than four square inches (25.8 square cm).
Download the prospectus.
Opening Reception, Sunday June 5, 2pm-5pm
Awards Presentation with Juror Andrew Raftery at 2pm
PRESENT, an exhibition of thirty prints by fifteen artist members
of Cork Printmakers is also on display in the Lithography Studio
2017 Artists-in-Residency Deadline is June 30th
Don't forget the application deadline
for 2017 Artists-in-Residencies is June 30th.
New Canaan Community Foundation's Generosity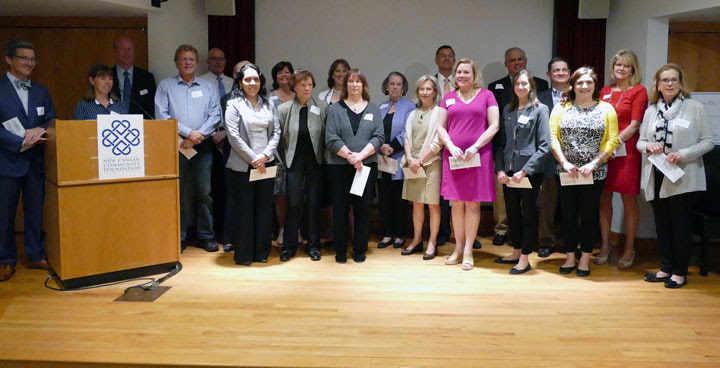 New Canaan Community Foundation announced 2016 grantees on May 19 at New Canaan Library. The Foundation awarded over $668,000 in grants to 73 local nonprofit organizations. The Center for Contemporary Printmaking is a proud recipient of NCCF generosity. NCCF continues to make an impact on this treasured printmaking facility, workshop, and gallery. New Canaan Community Foundation, your support means so much to us, thank you!
Tuesdays 9am - 9pm
Wednesdays through Saturdays 9am - 5pm
Sundays 12pm - 5pm
Closed Mondays
June 1 - 3
LINOLEUM BLOCK PRINTING WITH AN EMPHASIS ON COLOR THEORYwith Mark Williams
Wednesday - Friday, 10am−4pm
3-day workshop, limited to 8; All Levels
$375 members, $400 non-members

Travel into another dimension. See where color can take you, and where it already has, by speaking to your impulses, emotions, and memories. Color is the most subjective element in an artwork. This class will help you to understand color and use it to your benefit. Explore how colors interact with one another via their attributes of value, saturation, and hue. Learn how to mix colors and alter them. Participants will study color concepts in detail and apply them to linoleum block prints. Artists will learn how to carve linoleum and print it in several colors to achieve different moods and unexpected juxtapositions.



June 10

RINSED PRINTS
with Christopher Shore
Friday, 10am−4pm
1-day workshop, limited to 8; All Levels
$125 members, $150 non-members
This workshop will explore the techniques invented by Picasso in 1963-1964, which he called epreuves rincées, or "rinsed prints". After printing linoleum blocks on white paper with a creamy white oil based ink, Picasso painted over those areas where the paper did not receive ink with a brush and encré de Chine. He and his wife Jacqueline then rinsed them in the shower. The areas printed with white ink were washed clean of the encré de Chine or other water-based colored inks. Come explore his unique technique that works with almost any printmaking medium.


June 11 - 12
POCHOIR
with Amanda Lebel
Saturday and Sunday, 10am−4pm
2-day weekend workshop, limited to 8; All Levels
$200 members, $225 non-members

Pochoir is a hand stenciling technique that was developed in France during the early 20th century. It was typically used for fashion and interior design plates during the Art Deco period. Gouache is pushed through a hand cut stencil to create vibrant colors that can be layered. This class covers the basic techniques of pochoir including, stencil cutting, paint application, image design and composition. Once the stencils are drawn and cut, gouache is painted through them to create thick layers of intense color. Students have the opportunity to create multicolor prints that can be used in myriad ways from individual prints to fine art books.
| | |
| --- | --- |
| | Center for Contemporary Printmaking, Mathews Park, 299 West Avenue, Norwalk, CT 06850 |